Merger Planned for GEICO Federal Credit Union (GFCU) and Baxter Credit Union (BCU)
November 22, 2019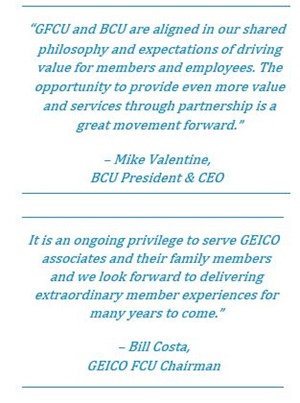 Two nationwide credit unions, GEICO Federal Credit Union (GFCU), a $138 million credit union headquartered in Chevy Chase, MD, and Baxter Credit Union (BCU), a $3.8 billion credit union headquartered in Vernon Hills, IL, have announced their intent to merge, pending regulatory and member approvals. If approved, the combined credit union would serve more than 285,000 members across the US and Puerto Rico. The merger makes BCU the 55th largest credit union in the US.
"Driving member and company partner value has been the cornerstone of BCU's success since its inception in 1981. The merger with GEICO Federal Credit Union aligns perfectly with our core competency of developing strong relationships with America's best workplaces to deliver the most beneficial workplace banking solution for everyone involved," said Mike Valentine, BCU President & CEO. "Blending our organizations, we're excited to carry the torch for what GFCU started in establishing a credit union for GEICO Associates and their families to deliver financial freedom."
The Boards of both credit unions enthusiastically support the merger and have submitted to the Illinois Department of Financial and Professional Regulation and the National Credit Union Administration for approval, after which there will be a vote of the GFCU members in early 2020.
"BCU has a proven track record for delivering a best-in-class workplace banking solution for large companies like GEICO that care deeply about the well-being of their workforce," said Bill Costa, GEICO FCU Chairman. "We are immensely proud of all that has been accomplished by every associate of GFCU. To continue building on the success of what we started and remain viable, bringing GFCU together with BCU enables scalable growth, more robust products, better technology, and expanded access and service delivery. The benefits realized by an improved ability to meet the needs of each member at every stage of their financial journey is in the best interest of our institution and our membership."
Once the merger is complete, GEICO FCU will officially become GEICO Credit Union, a division of BCU.