Welcome
TeamHealth Associates!
As a TeamHealth Associate, you and your family have exclusive access to Credit Union membership from BCU.
You'll find lower rates, greater rewards, and exceptional service – delivered by people who are committed to putting you first.
Medical Professional Mortgage
Up to 100% financing available and no mortgage insurance required*
Student loans may be excluded from your debt ratio*

0.125% off BCU published mortgage rates**
Medical Student Loan Refinance
$500 cash bonus4
No interest and no payments for 3 months⁴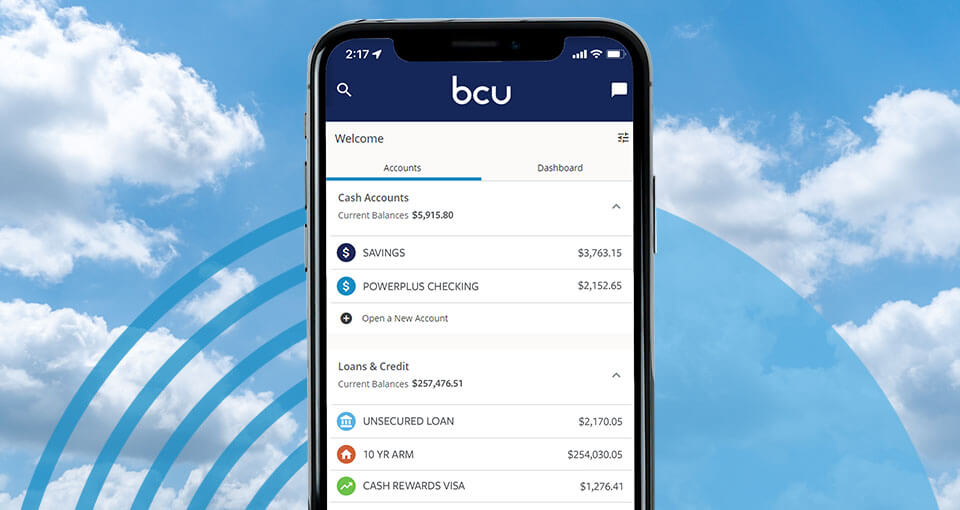 Download the Digital Banking app today!
Access your money on your schedule. Make a transfer or deposit a check in a snap with Deposit Anywhere.


App Store®
Google Play™
Frequently Asked Questions
A credit union is a not-for-profit, cooperative financial institution owned by its members. Credit unions offer the same services as banks, but the profit cycles back to members instead of stockholders. As a result, members benefit from higher earnings on deposit accounts, lower rates on loan products that typically have lower to no fees—bringing savings to the entire membership.

US and Puerto Rico employees, contractors, temps of partner companies and their extended families nationwide are eligible for credit union membership. See if you qualify based on one or more of the following criteria:

Employment-based eligibility: You are a permanent, temporary or contract employee of one of the several elite employer groups offering the Credit Union's services as a valuable employee benefit.

Community-based eligibility: You live or work in one of six local community charter counties: Lake, McHenry, DuPage, Kane or Cook (north of 95th Street on the south side of Chicago) County in Illinois, or Kenosha County in Wisconsin.

Family-based eligibility: You are the immediate or extended qualifying family of an existing member related by blood, marriage, fostering or adoption. Eligible family members include: spouses, parents, children, siblings, domestic partners, grandchildren, grandparents, aunts, uncles, nieces, nephews, and cousins.

What if I open an account and then move or leave my company?

Once a member, always a member! Benefits of Credit Union membership will always be available to you and your family, no matter where life takes you. Relocating to a new area? No problem! Changing jobs? The Credit Union goes with you. Retiring? We're Here Today For Your Tomorrow. Our commitment to your financial well-being is truly a lifelong promise. We're accessible 24 hours a day in all 50 states and abroad using our digital banking services and have many members who never set foot in a branch.

What benefits come with Credit Union membership?

Our members are the reason we exist and is why we help our members maximize their benefits with products and services like:

Access to your payroll funds up to a day early with Enhanced Direct Deposit™
High-interest Checking with ATM fee reimbursement
Low rate loans for homes, vehicles, college tuition and more
Easy access to your free online credit score with SavvyMoney®
Complimentary financial education resources provided by Life. Money. You.®

Will my employer have access to my financial standing or account details?

No. Although we share a common interest in each employee's Financial Well-being, your company and BCU are separate business entities. Furthermore, as your financial institution, BCU protects your private financial data and complies with stringent security standards.

What if I have limited access to a branch location?

At the Credit Union, we're always looking to make it easier for you to Connect Your Way, so you can bank when and where you want through Digital Banking. Plus, once you're a member, you'll have access to thousands of surcharge-free ATMs and Shared Branches nationwide.

How do I join the Credit Union?

The easiest way is online and completing the 10-minute online membership application. Be assured that this process is safe and secure. You can also contact us if you have any problems in the process.
​​​​​​​​​​​​​​

*To be eligible to join the Credit Union, an individual must submit a membership application in a Credit Union branch or online, in which they agree to conform to BCU's bylaws and amendments and subscribe for at least one share ($1.00). The $1 in the Share-01 Regular Savings account required to open a membership will be deposited by the Credit Union on behalf of the member. The $1 balance must be maintained in the Share-01 Regular Savings account for the duration of the membership. A person seeking Credit Union membership must also meet at least one of the criteria found at www.BCU.org/Membership-Eligibility.

1Rainy Day Savings is a tiered, dividend-bearing account based on qualifying activity and balance. To qualify for the stated APY, a monthly deposit must be made of at least $25, not to exceed $500. During the first calendar month only, a member may deposit up to $1,000. Deposit amounts exceeding the monthly maximum deposit will be transferred to the member's Regular Savings account. Balances for the first 12 consecutive qualifying calendar months; beyond the first 12 months, but less than $25,000; and above $25,000 will earn different rates as posted. For months in which the minimum deposit requirement is not fulfilled, the Regular Savings rate will be paid. Rates are subject to change without notice. Two withdrawals are allowed per calendar year. Each additional withdrawal will result in a $25 excessive withdrawal fee which will reduce earnings. Rainy Day Savings is available as a personal account only and limited to one account per member.

2ATo earn monthly dividends and unlimited reimbursements of other banks' ATM surcharge fees, your account must meet these two monthly requirements: Monthly direct deposits totaling at least $500 into your PowerPlus™ Checking account and completion of at least fifteen (15) transactions that include any combination of the following: BCU Debit Card PIN, Debit Card signature, credit card purchases, Online Bill Pay or ACH payments, which apply toward the monthly requirements in the month they post to your account. Credit card transactions that post on the last day of the month will be applied toward the following month's transaction total. Accounts not meeting all monthly requirements will not earn dividends and will not receive reimbursements of other banks' ATM surcharge fees. Rates accurate as of 10/1/2022. The dividend rate and annual percentage yield (APY) may change at any time. Balances up to $15,000 will earn the stated higher rate and the portion of the balance over $15,000 will earn the stated lower rate. See rate sheet or website for current rates. There is no minimum balance required to earn dividends. Dividends are paid monthly and calculated based on the average daily balance method. PowerPlus™ Checking is available as a personal account only and is limited to one account per member. If you do not have sufficient available funds in your checking account to clear a presented item, funds may automatically transfer from your savings or money market share and may count towards withdrawal limitations for that savings or money market share (Electronic funds transfers from savings and money market shares, which include overdraft transfers are limited to six per month. Each electronic funds transfer in excess of six per month is subject to a $3 excessive withdrawal fee. See Service Charges and Fees Schedule in Consumer Member Service Agreement for further details. PowerPlus™ Checking is a trademark of BCU.

2BEnhanced Direct Deposit allows you to receive payroll and other electronic deposits up to two days ahead of your scheduled payday. It's important to note, funds are not AVAILABLE for you to spend until they are reflected in the AVAILABLE BALANCE. Please be sure to confirm available funds in your account before withdrawing against this deposit. While BCU will try wherever possible to advance payroll direct deposits by up to 2 days, availability of funds ahead of the original scheduled pay date is not guaranteed. You should not rely on Enhanced Direct Deposit to satisfy the needs of scheduled bill or loan payments, or any other date-sensitive financial obligations.

3Promotional rate accurate as of 9/1/2022 and subject to changes. The Annual Percentage Yield (APY) assumes that dividends will remain in the account until maturity. The minimum deposit required to open a Certificate Account and obtain the above Annual Percentage Yield (APY) is $500. You may withdraw all your money including dividend earned, without any penalties, any time after the first 6 days following the date you funded your account. Withdrawals are not permitted during the first 6 days following the date you fund your account.

*100% financing available on purchase transactions of a single family detached, primary residence; a maximum loan amount of $850,000 for credit scores up to 700 or maximum loan amount of $550,000 for credit scores up to 680; and a maximum debt-to-income ratio of 43%. You may exclude student loan payments from the total monthly debt obligation if the following conditions are met: 1) Payments will be deferred for at least 12 months after the application date and/or the borrower's medical residency will continue at least 6 months after the closing date. 2) The borrower responsible for the debt is in one of the following professions: Medical Doctor, Medical Resident, Doctor of Osteopathic Medicine, Doctor of Dental Surgery, Doctor of Dental Medicine, Doctor of Optometry, Doctor of Pharmacy, Physician Assistant, or Nurse Practitioner. Maximum debt-to-income requirement may vary between 43% to 45% based on qualifying factors, such as loan purpose, property type, loan-to-value, loan amount, and credit score.

**Offer available to current TeamHealth associates. You may need to provide proof of employment or affiliation. For first mortgage purchase and refinance transactions of a primary residence, the maximum corporate affinity pricing rate discount is 0.125% off current BCU published rates. Corporate affinity pricing rate discount and relationship pricing rate discount may be eligible to be combined. Corporate affinity pricing rate discount may not be combined with any Relocation Services program benefits, or any other home loan promotional offers. Certain mortgage types and/or terms may not be eligible for the stated rate discount. Loan approval is subject to credit approval and program guidelines. Not all loan programs are available in all states for all loan amounts. Interest rates and program terms are subject to change without notice.

4AUpon approval and funding of your student loan you will receive a cash deposit of $500. The cash deposit will be awarded in the form of a deposit to your Credit Union checking or savings account within 90 business days from the funding date of the loan. Additionally, a minimum loan amount of $10,000 is required to receive this cash deposit. Limited to one cash bonus per member. Student Loan refinance application must be received by 12/31/2022 and funded by 2/28/2023.

4BUpon disbursement of the loan, no payments will be required and no interest will accrue during a three-month promotional period. After this three-month promotional period ends, this loan requires full payments of principal and interest. The repayment term of the loan will begin three months after disbursement, when the promotional period ends. The credit union reserves the right to modify the terms of this offer at any point in the future for new applications.

5Combined cash reward savings calculated based on 3,690 home closings with a real estate agent in the HomeAdvantage® network of approved agents between 4/1/2010-2/14/2022.


6Offer available only to TeamHealth associates and TeamHealth associates families. Upon approval and funding of the loan, you will receive a cash rebate of $200.00. Auto purchase and refinance loans must be funded by 12/31/2022 to qualify. A minimum loan amount of $10,000 is required to receive a cash rebate. Current BCU loans are not eligible. May not be combined with any other vehicle cash promotional offers. The total amount financed may include proceeds for loan protection coverage such as Guaranteed Asset Protection (GAP), Mechanical Repair Coverage (MRC), Prepaid Maintenance, and Loan Payment Protection (LPP). The cash rebate will be awarded in the form of a deposit to your Credit Union savings account within 3 business days from the funding date of the loan. Offer expires 12/31/2022.

7Student Loans and underwriting is made available through BCU. Application processing is available from Credit Union Student Choice on behalf of BCU. Loan servicing and repayment is available from University Accounting Service, LLC on behalf of BCU. APR is Annual Percentage Rate. Variable Rate is based on the Prime Rate as published in The Wall Street Journal "Market Data Center" Section (Index). Rates accurate as of 7/1/20. Your rate will be calculated each quarter by adding a margin -1.26% and +2.77% to the Prime Rate and is based on your credit profile. The rate will not increase more than once a quarter but there is no limit on the amount the rate could increase at one time. If the Interest Rate increases, your monthly payments may be higher. Although the rate will vary after you are approved, it will never exceed 18.00% (the maximum allowable for this loan). The rate listed includes a 0.25% discount for enrollment in automatic recurring payments.