Accounts designed to help you maximize your money potential.
Money Market Special
Enjoy high yields and liquid funds.

Money Market
Watch your money grow while maintaining flexible access.

Certificates of Deposit (CDs)
Get a guaranteed return with peace of mind.
IRAs
Plan for retirement with an account that is right for you.
Rainy Day Savings™
Automatically earn a rewarding, high-interest APY with each monthly deposit.
Regular Savings
Get your saving journey started with no minimum balance required.
These Rainy Days make savings grow faster.
Open a Rainy Day Savings™ account and earn up to 2.50% APY*.
Learn More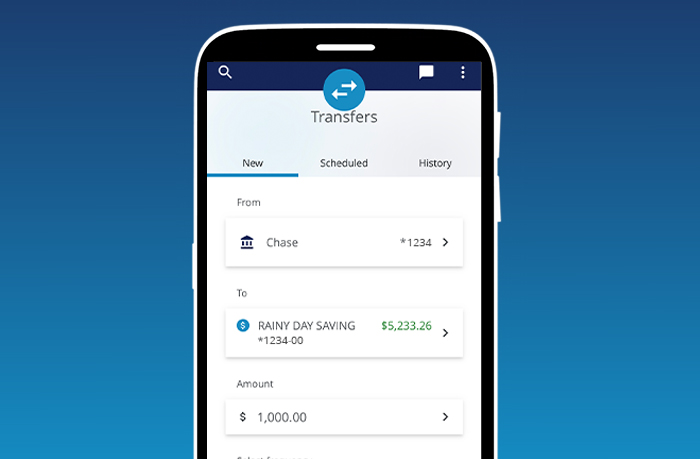 ​​​​​​​​​​​​​​

Rainy Day Savings

*Rainy Day Savings is a tiered, dividend-bearing account based on qualifying activity and balance. To qualify for the stated annual percentage yield (APY), a deposit must be made monthly of at least $25.00. The specified Dividend Rate for each tier will apply only to the portion of the account balance that is within that tier. The annual percentage yields, which vary depending on the balance in the account, are shown for each tier. During the first calendar month the account is opened only, a member may deposit up to $50,000.00. Deposits exceeding the first month maximum deposit will be transferred to the member's Regular Savings account. Balances above $25,000.00 and up to $50,000 will earn a different rate as posted. Balances above $50,000 will earn a different rate as posted. For months in which the minimum deposit requirement is not fulfilled, the Regular savings rate will be paid. Rates are subject to change without notice. An allowance of four withdrawals are permitted each calendar year, any additional withdrawals will result in a $25 excessive withdrawal fee which may reduce earnings. Rainy Day Savings is available as a personal account only and limited to one account per member.